Bathroom remodel projects can sometimes take on a mind of their own. Small changes that you first think may be a good idea can sometimes turn into a disaster later. What's worse is that most of the common bathroom remodeling mistakes happen early and during that time it may sound like a good idea but isn't. Here are some of the common mistakes when getting a bathroom remodel in Downriver Michigan and what you can do to avoid them so you have the best outcome for your project possible. And a bathroom you can live with. 
Common Mistakes When Getting a Bathroom Remodel in Downriver Michigan
Everyone has their own style. So what is great for some may seem very hideous for others. Finding your style to decorate or design the bathroom may take some looking and searching but you should be able to find something that suites your needs. There are some common mistakes that home owners make during a bathroom remodel in Downriver however that are likely a bad idea no matter the style you choose for your home's bathroom. Most of the mistakes that are listed below are more common because they can be made across a wide range of styles. These errors can be made if you're considering an ultra modern look or a vintage classic look. And avoiding these mistakes can make sure your bathroom remodel project goes off without a hitch.
Does the Bathroom Have a Window?
For bathrooms that are on the interior of the home without an exterior wall this may seem like an impossible task. However, you can get skylights and tubular skylights to let some natural light into the bathroom. It's always a good idea to have a window in the bathroom however you'll want to consider privacy when having the window installed as well. Higher windows work well in the bathroom. Having some type of natural light can make a huge difference in the bathroom remodel project.
Don't Forget the Storage Space in the Bathroom
It may seem like a good idea to remove that bulky closet or shelves in the bathroom to make it larger during the bathroom remodeling project in Downriver Michigan but not having enough storage areas in the bathroom can be a huge problem. Consider everything that is contained in the closet or on the shelves and make sure you have enough storage space in the bathroom remodel project to ensure they have something to be. Expanding vanity cabinets can sometimes make up for the space that is lost during a remodel in which you remove a closet. You can also consider getting the extra space from another area of the home such as moving a wall to add the extra room if needed.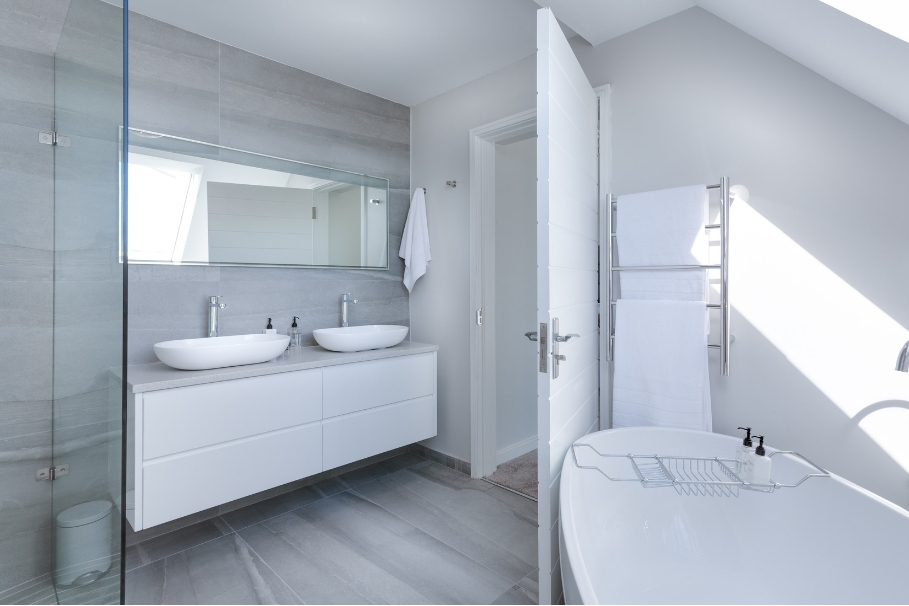 Toilet Placement is Crucial
Not much thought is usually given to the toilet placement. In fact, it's usually just placed somewhere as an after thought sandwiched somewhere between the vanity and shower. But give the toilet a bit of thought when considering the placement. For older residents having a toilet the is closer to a wall where grab bars and such is easier placed. You also need to consider where the toilet paper roller will be at because one of the more common problems with most toilet installations is that there is no where to place the roller that is in reach of the toilet. A common mistake in the bathroom that can be avoided with just a bit of planning during the bathroom remodel project.
Classic or Modern, But never Both
As I mentioned before you can choose the style all your own and it can look great. There are some things in terms of design you'll need to consider and the most important is not to mix styles. Having an modern looking basin with a classic looking faucet is usually a bad idea. Consider visiting some of the larger home improvement stores to look at the setups they have available to ideas.
Use a Professional Home Improvement Contractor
Think that a bathroom remodel project is something that you can do yourself and still have the outcome you desire for your bathroom? It's always a good idea to hire a professional bathroom remodel contractor for your bathroom project. Here at The Bathroom Restoration we offer free consultations on remodel projects and can discuss the many options you have for remodeling your bathroom in Downriver Michigan. Contact us today to get started by using the form below: