Has the bathroom in your home reached a point where a change in design is needed to bring it into this decade. Many bathroom remodel projects start with a basic idea and then go forward from there. However, when the basic idea is flawed it may lead you down a path that may not have the best outcome for your bathroom. Here are some common mistakes that many home owners make when getting a bathroom remodel in Ann Arbor Michigan and how you can avoid these mistakes on your project. 
Don't Make These 5 Bathroom Remodel Mistakes in Ann Arbor Michigan
It doesn't matter if your bathroom remodel project in Ann Arbor Michigan is small like just replacing a few fixtures or a full blown complete remodel project, everything starts with planning. Planning out every detail of the entire project is a crucial first step with any bathroom remodel project. This can not only help the project go much smoother but it can also help you stay within your budget. Another thing you'll need to consider is that things can happen and you should allow some wiggle room for problems that may arise during the bathroom remodel project.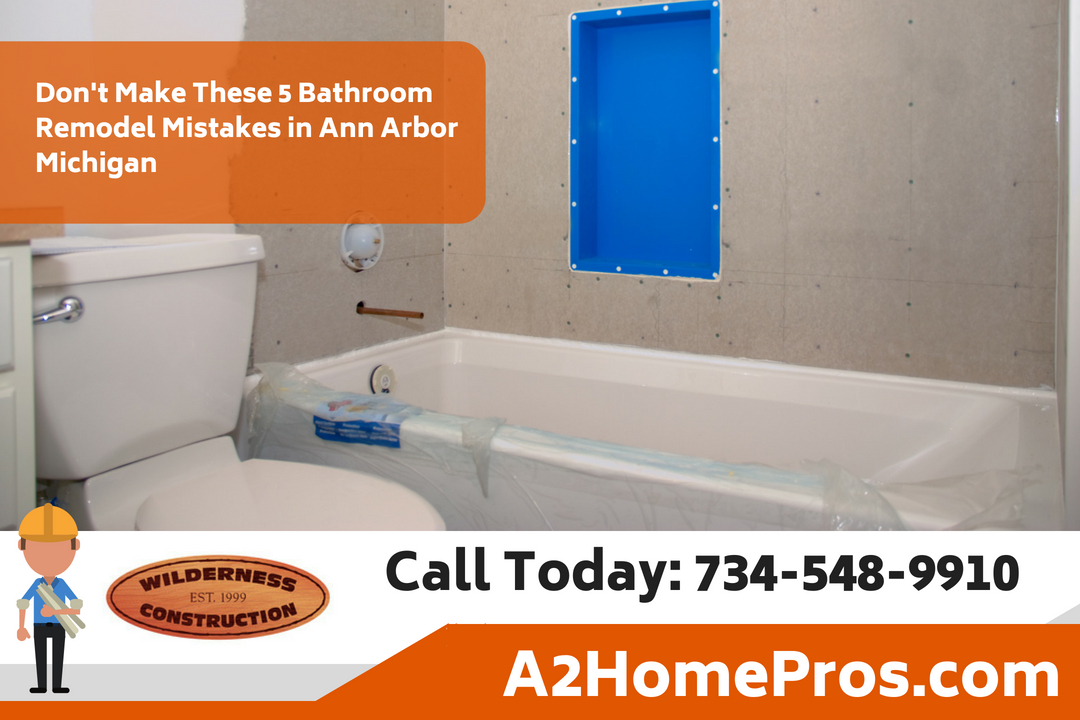 Don't Forget About Ventilation and Lights
If you're adding a stand up shower in the bathroom you've got to consider the humidity in the bathroom while that shower is running. One of the most overlooked bathroom fixtures is the ventilation fan. Failing to install a ventilation fan in your bathroom can promote mold growth and make everything in the bathroom wet at every hot shower. Not only that but unpleasant odors may also linger without an exhaust fan installed.
Give Yourself Some Room
Poor planning is better than no planning. So when you plan try to picture the outcome of the bathroom remodel project. One thing in particular to pay attention to is the layout of the bathroom. Most bathrooms are small and things are packed together. You'll need to make sure you have enough room to move around in the bathroom. For instance, can you go to the vanity without walking around the toilet? Is there a place to place a tissue holder in the bathroom that is accessible from the toilet. A great layout may need you to map out the bathroom in the garage with painters tape to get a feel of the size and shape the bathroom will be after the project is completed.
Using Low Quality Materials in the Bathroom Remodel Project
As the old saying goes: "You get what you pay for". Like everything else in this world there are different qualities of products that you can install in the bathroom. Make sure you use higher quality products that have better warranties and better construction. Remodeling a bathroom only to install plastic fixtures that only last a few years is not a good idea.
Make a Plan and Stick With It
The great thing about having a plan for the bathroom remodel project in Ann Arbor Michigan is that everyone is on the same page and knows exactly how the work is to be performed. Problems start showing up when changes are made mid-project. Making a lot of small changes during the middle of the project can show up in a big way at the end of the project. Mainly because these small changes having been scrutinized by others and you may just be going off a whim. In either case, you'll need to make sure any changes don't affect the overall outcome for the bathroom remodel project.

Not Hiring a Professional Contractor
The absolute biggest mistake that many home owners make on a bathroom remodel project in Ann Arbor Michigan is they don't hire a professional contractor for the work. Many attempt a do it yourself project and end up spending lots of money just trying to get the home livable again. In order to pass inspections and gain permits, you'll need to enlist the help of a certified and licensed contractor. Many of the components in the bathroom such as plumbing and electrical work must be performed by licensed professionals. Don't take the chance of doing the work yourself or it could cost you more in the long run. Call a certified home improvement contractor in Ann Arbor Michigan such as A2 Home Pros. They offer free estimates and are fully licensed and qualified for bathroom remodel projects in Ann Arbor Michigan.