Remodeling any room in your home is a huge home improvement project. The it may seem like the larger the room, the more problems there will be but it's actually likely the  opposite. Two rooms in the home that have notorious for having problems during home remodel project is the kitchen and bathroom areas. While it may seem like these two rooms should be easy it's what the functionality of these rooms are which makes it so difficult. So you'll need to have a great home improvement contractor to remodel either of these rooms for you. Here are 5 questions you should ask the home improvement contractor in Ann Arbor Michigan to ensure they are up to the challenge and can give you the outcome you want from your home improvement project in Ann Arbor Michigan. 
5 Questions You Should Ask Your Home Improvement Contractor in Ann Arbor Michigan
One thing I wanted to mention before I get into the 5 questions is that remodeling a bathroom or kitchen requires plumbing and electrical experience and qualifications. For small home improvement projects you may not need this but for larger projects it is always better to be safe than sorry. After all, do you really want to risk your home and the safety of your family because you wanted to do the project yourself? It's better to use a home improvement contractor. So that leads us to the first of 5 questions you should ask your home improvement contractor in Ann Arbor Michigan: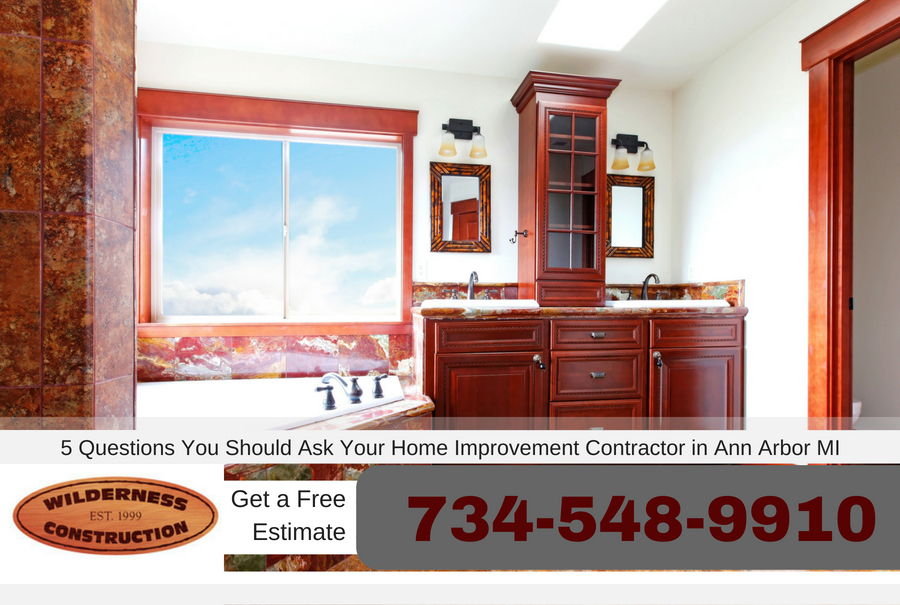 1 – Are you properly licensed and insured?
Remodeling a bathroom usually requires re-routing plumbing pipes and electrical connections. Both of these things require a certified, licensed technician to complete. In fact, your project likely won't get approved for inspection if the work is not done by licensed professionals. Make sure any contractor you use in Ann Arbor Michigan is fully licensed and insured. Not doing so will likely cost you more in the long run especially if there is a problem that develops later from the work.
2 – Do you have the necessary supplies and materials needed for this project?
Lots of times home improvement contractors want to start a project as quickly as they can. Then, they may disappear for days or weeks. This is common and is usually because the materials needed to complete the project aren't available. Instead of waiting for the materials or supplies to come in before starting the project the home improvement contractor will start the project so that no one else can start it. Make sure that the home improvement contractor can finish the project without delays once they start. Trust me, it's much better for them to wait to start the project rather than leaving you with a construction zone in your home.
3 – How much experience do you have?
Experience is a must when doing home improvement projects in the bathroom. More experience usually means a better outcome for the project as well as shorter time frame. However, be weary of shortcuts that some contractors will take when attempting to complete a project. Experience works well for the contractor when there is a problem that arises from the home improvement project.
4 – Is there any guarantee or warranty on materials or labor?
Consider what would happen if two months after your home improvement project was finished what would happen. Is there any type of guarantee on the work that the contractor performed. Maybe a fixture that was installed has started leaking. In any case you need to get any type of warranties or guarantees that are offered by the home improvement contractor in Ann Arbor Michigan in writing. Many times fixtures will come with warranties so be sure to get all the information including models for these fixtures just in case there is a problem later.

5 – Do you offer free estimates and consultations?
These are just 5 of some common questions that you will need to ask any home improvement contractor that you are considering for remodeling your bathroom. Make sure you also ask for a free estimate on the bathroom remodel project as well. Many companies will also offer free consultations to discuss the project with you as well. One company that serves the Ann Arbor Michigan area is A2 Home Pros. Call A2 Home Pros today to get a free consultation on your bathroom remodel project in Ann Arbor Michigan at 734-548-9910