A bathroom remodel project is a major home improvement project. Many times home owners think that the bathroom is not a major home improvement project simply because it is one of the smallest rooms in the home but actually, there are many components that are present in the bathroom that are not present in many other rooms in the home no matter the size of the bathroom. Since the bathroom contains specialized plumbing and electrical it makes it much more complicated than a  bedroom remodel. Before you start a bathroom remodel in Ann Arbor Michigan on your home be sure to read the following tips to ensure you get the best outcome for your bathroom remodel in Ann Arbor Michigan. 
Don't Start a Bathroom Remodel Project in Ann Arbor Michigan Before Reading This
A bathroom remodel project is a major home improvement project and there are many things that you will need to consider when thinking about a home improvement project that includes your bathroom. With specialized electrical circuits and plumbing in the bathroom it usually requires the need of licensed professionals to work on the project. Even though the bathroom is small there are some building code requirements that need to be adhered to in Ann Arbor Michigan in order to get your home properly permitted and inspected after the project is complete. Following the tips below can help to ensure your bathroom is done correctly and will pass inspection.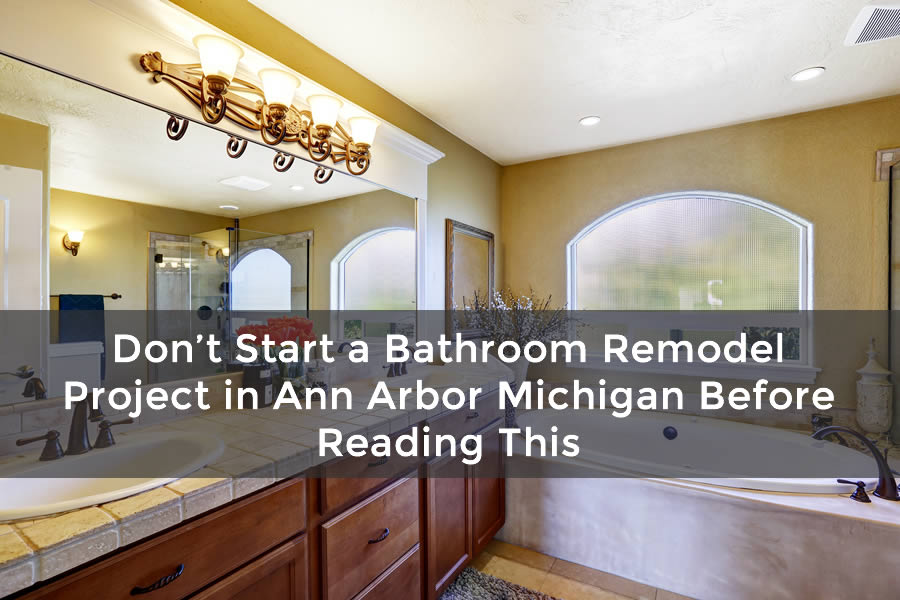 Make a Budget for Your Home Improvement Project
One of the biggest problems that many home owners run into when doing a bathroom remodel is they spend much more than they wanted to. Bathroom and kitchen remodel projects can get expensive very quickly. And since there are so many different components that will need to be addressed when getting a bathroom remodel project done it's very important to have a budget in place. This budget should include some padding so that when there is a problem you can address it without going over budget. Chances are, with any home improvement project there will be problems and having a budget in place will help you deal with these problems and not completely stop your bathroom remodel.
Is Your Home Improvement Contractor Insured?
Make sure the home improvement contractor you use for your bathroom remodel is properly licensed and insured. No one wants to think about an accident happen but being able to protect yourself is important. If an accident happens and the contractor is not properly insured the liability for the accident may fall to you and your home owners insurance. And since a claim can usually make your premiums go up, it's important to make sure the home improvement contractor is properly insured so that you don't need to worry about it.
Getting the Proper Permits and Inspections for Your Home Improvement Project
For a bathroom remodel project there is usually a need to get permits and inspections during the project. A properly licensed contractor will know what type of permits are needed for your home and also usually secure these permits and inspections for the home. If you're planning on doing the bathroom remodel yourself you may need to get these permits and schedule the inspections yourself.
Always Use Qualified Professionals on Your Project
For plumbing and electrical work on your home it's always advised to use properly qualified and licensed contractors. A mistake with either of these components can really be a disaster later even after the project is completed. Plus, if you plan on doing the work yourself on the bathroom remodel for plumbing and electrical you may be required to have a licensed plumber and electrician sign off on your work. Meaning that you'll basically be asking them to stand behind your work. This usually comes with a huge price tag and more expensive than hiring professionals in the first place. This is why it's always recommended to use qualified professionals with your bathroom remodel project in Ann Arbor Michigan.
Get an Estimate First
In order to get a better idea of just what the bathroom remodel in Ann Arbor Michigan will cost it's always best to first get an estimate on the project. One of the top home improvement contractors in Ann Arbor Michigan is A2 Home Pros. Be sure to contact A2 Home Pros today at 734-548-9910 for more information and get a free estimate on your bathroom remodel in Ann Arbor Michigan.