A great home remodel project that many people are doing these days is remodeling the bathroom in their homes. Bathroom remodel projects can make a huge impact on your home in terms of value, energy efficient, and functionality. Not to mention the design and the simple fact of making it more of a home rather than a house. If you're considering a bathroom remodel in Downriver Michigan be sure to check out these 9 tips to get the most from your bathroom remodel project. 
9 Amazing Tips for Bathroom Remodeling in Downriver Michigan
Many home owners want a new bathroom but are too nervous to go for it. Between the cost of the remodel, the amount of time it may take and the risk of other issues coming up, it can seem like a huge risk to do a bathroom remodel. But if you prepare and follow these steps it can be a hassle free experience that gives you the bathroom you want.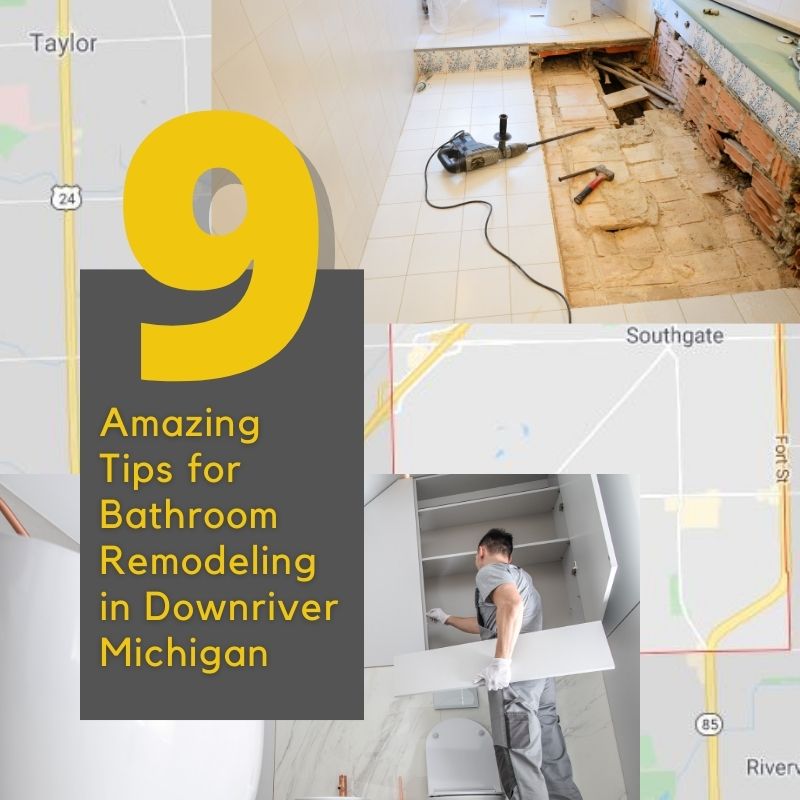 Make a Plan: It is important not only to consider your budget, but to plan out exactly what you want done. Consider your timeline, be thorough with the details of the design and discuss this with a professional and make sure you are both on the same page from the very start. Talk with your bathroom remodel contractor about estimates and pricing before the project begins to get a better idea of how much each step of the process will cost.
Stay Simple: Consider the amount of work it will take to clean your new bathroom. If a type of material require a lot of maintenance and care you may want to think twice about choosing them if you aren't a fan of cleaning. Trust me, the easier it is to clean the more you will enjoy it later.
Opt for Quick Turnaround: If you don't want to spend a lot of time waiting for the new bathroom you should consider how long it will take to get materials, install everything you want, and get your bathroom up and running again. Also look for a contractor who can do the job quickly and has experience with what you are looking for.
Consider Upgrades: Rather than paying for a complete overhaul and getting brand new everything, you should consider doing upgrades. Consider what exactly you want changed and if you and the contractor can come up with a plan to use existing pieces and improve them to save time and money.
Rather than paying for a complete overhaul and getting brand new everything, you should consider doing upgrades
Consider the Future: As you plan your new bathroom in Downriver Michigan consider what the future holds for you. If you want kids it is important to consider how it would function for a smaller person and choosing materials that are safe and durable. If you are older it may be time to consider installing bars or going for a walk in shower and bath to prevent you from getting hurt.
Choose Durability: When choosing your new bathroom materials you should opt for durability over looks. As pretty as a tile might be when you first install it, if it isn't durable you risk it getting all scratched up and looking horrible.
Go With a Professional: While you may think you will save money by doing work yourself or hiring friends, poor craftsmanship and installation will mean redoing the work later on and paying more than if you had hired a professional home improvement contractor in Downriver Michigan from the start. Do your research, ask around and ask questions for any contractor you talk to.
Consider Warranties: Make sure you consider the warranties on all the materials you use as well as the warranties the contractor will provide for their work. The longer the warranty, the more faith a company has in their work or product.
Spend Your Money Wisely: Your bathroom remodel isn't just to make your bathroom look nice, it is an investment. If you choose to sell your home the bathroom can greatly increase your home's value. But don't spend a lot of money on what someone else might like. An expensive Jacuzzi tub may seem nice but will you actually use it? If it isn't a priority then you should save your money and focus on getting what you really want done.
Get Started Today!
Call a professional home improvement contractor in Downriver Michigan such as The Bathroom Restoration to get a free estimate on your bathroom remodel project. Fill in the form below get started with a free quote!