When it comes to a bathroom remodel in Downriver Michigan getting things right from the start can ensure you have a great finish to the project. There are many mistakes that can be made early on in the project which can be very costly to repair later. What's even worse is that some of these problems won't even show up until after the project is complete. In fact, some may just be a frustrating point that you'll need to deal with each day and can make you regret the entire bathroom remodel project. Be sure to look over these 6 things that you should know before you start to design or remodel your bathroom in Downriver Michigan.
6 Things You Should Know Before Remodeling a Bathroom in Downriver Michigan
When getting a bathroom remodel project in your home it's always best to plan ahead. Try to plan the entire project out from start to finish. This should include things like the time frame needed to complete the project. And if your home doesn't have a spare bathroom you'll need a way to shower and stuff. Keeping things minimized to one bathroom at a time can help with this but in either case, you should plan accordingly. It's always best to use a home improvement contractor in Downriver Michigan to do any sort of larger bathroom remodel project but even if you do you should still follow these tips to ensure you get the best outcome for your bathroom remodel project.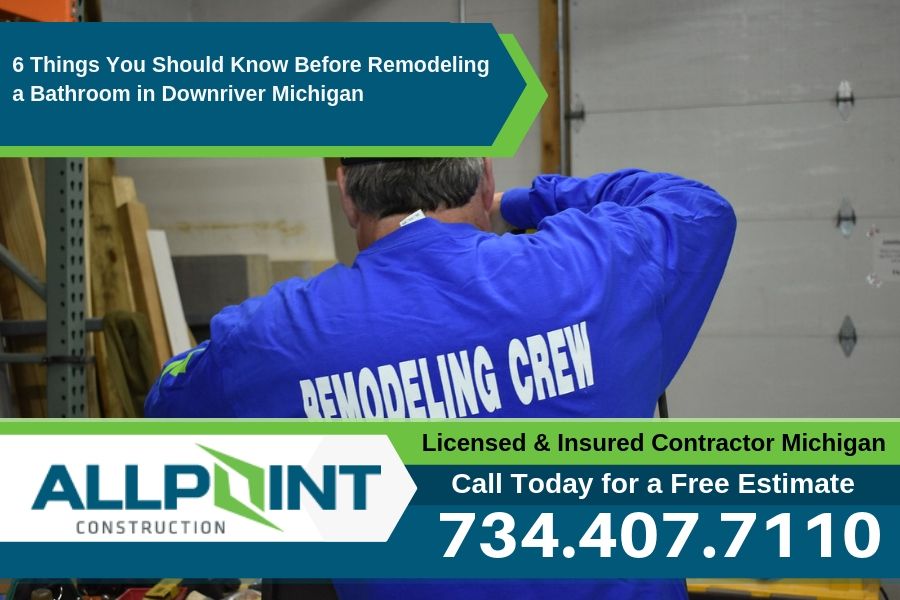 Design Vs. Functionality
Having a beautiful bathroom after the remodel is done is something everyone wants. However, you'll need to keep in mind that great design should also be fully functional. Don't sacrifice functionality for design. It's a trap many homeowners fall into and soon regret it after the project is complete. This is not to say you can't have a great design but you should sacrifice functionality for it.
Know Your Heights
The bathroom remodel project you're doing should make the home more accessible for you and your family. If you have shorter people in your family the fixtures should reflect that. You can start off with standard measurements and adjust from there. Before you begin the bathroom remodel project try to map out where things will be and if it will be correct for your family. Other special needs can also be addressed during this stage.
Pay Attention to Lighting
One key area that is always difficult is the correct lighting for the bathroom. Installing lights around a vanity is usually good but keep in mind where someone will stand when facing the vanity. Does other light placements reflect in the vanity causing it hard to see what's in the mirror? Map out the entire lighting of the bathroom to determine if you should actually install those lights there.
Remain Quiet at Night
While getting a large ventilation fan may seem like a good idea for a bathroom it can be a disaster sometimes. Consider getting up in the middle of the night and the bathroom fan comes on to wake up your spouse because it's so loud. Getting the correct sized fan for the bathroom is needed but you'll also need to pay attention to how loud the fan is.
Keep the Storage Space
Making the bathroom bigger can be great. You get extra space to move around and can make a huge difference in many bathrooms. Especially since most bathrooms are smaller which is more so in older homes. However, you'll still want to keep some of the storage space you have. Eliminating storage space for your bathroom should be taken seriously and never removed if you think it may be needed.
Stick to a Budget
Planning the entire bathroom out is a must. That plan should start with a budget. Of course there will be things that come up that can cut deeper into the budget and things that you may be able to save on. However, you should always start with a budget and that should include an allowance for unexpected items as well.
Get an Estimate Today!
Planning on a bathroom remodel in Downriver Michigan soon? Be sure to call the home improvement team at All Point Construction at 734-407-7110. They offer free estimates and can help you better plan your entire bathroom remodel project in Downriver Michigan.