One of the biggest focal points in the bathroom that most people will immediately notice is the vanity in the bathroom. This is one area that you really don't want to budget on if you're planning on making a great bathroom remodel on your home's bathroom. The counter top of the bathroom vanity is very important and can really add some pizzazz to the bathroom. If you're considering a bathroom remodel in Downriver Michigan be sure to consider these different types of bathroom countertop materials for your project. 
4 Popular Countertop Materials You Should Consider for Your Vanity
Counter tops are one of the main design elements in your bathroom. In other words, counter tops can pull together or destroy the overall design aesthetic of your bathroom remodel project in Downriver Michigan. That's why it's important to choose counter tops that create an overall cohesive design in your bathroom. As I mentioned above, having a great looking bathroom counter top can be a focal point in the bathroom. This is especially true for smaller bathrooms and especially for half baths that you are remodeling in your home. That being said, continue reading to learn more about the top four popular counter top materials that you should consider for your bathroom remodel in Downriver Michigan!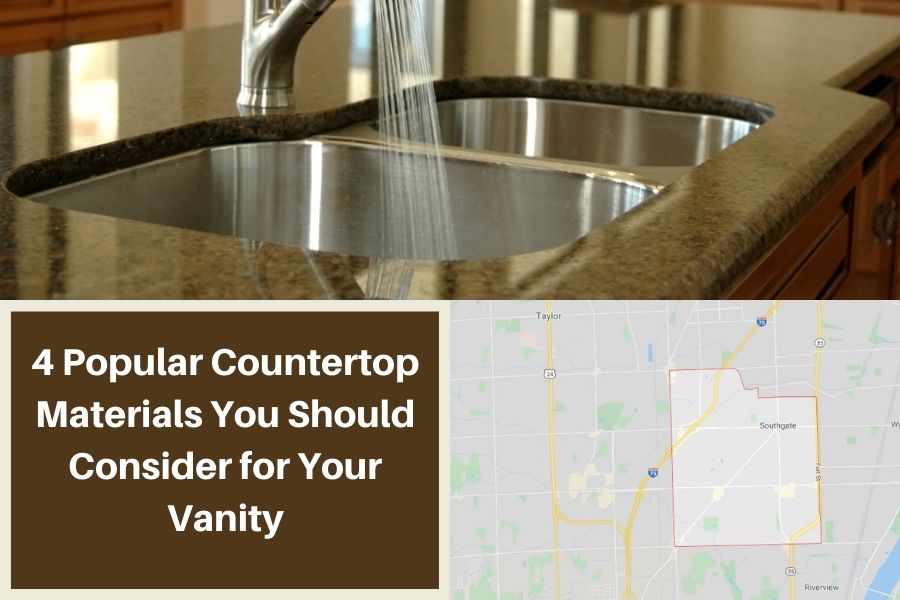 Natural stone
Currently, this is one of the leading counter top materials used in bathroom remodel projects. This is most likely due to natural stone's durability and versatility. After all, each slate has a different design that is naturally created. Out of all the types of natural stone, granite is by far the most popular because of its extensive color options. Each piece can give you a different look.
Ceramic Tile
If maintenance doesn't bother you, then you should consider ceramic tile for your bathroom remodel. Ceramic tile is gorgeous and is so versatile you can use it in almost any type of bathroom. Nowadays, most people choose ceramic tile for their flooring and walls. But, ceramic tile is still a great counter top option. Plus the different designs and colors can help you pull everything together nicely.
Although ceramic tile is versatile and gorgeous, it's maintenance heavy. This means you won't be able to neglect or skip over maintaining your ceramic tile if you intend on keeping it in good condition for a long time. Also, repairs tend to be expensive depending on the extent of the damage. In order to minimize some of the maintenance and costs of having ceramic tile, you should consider placing it on top of plastic laminate.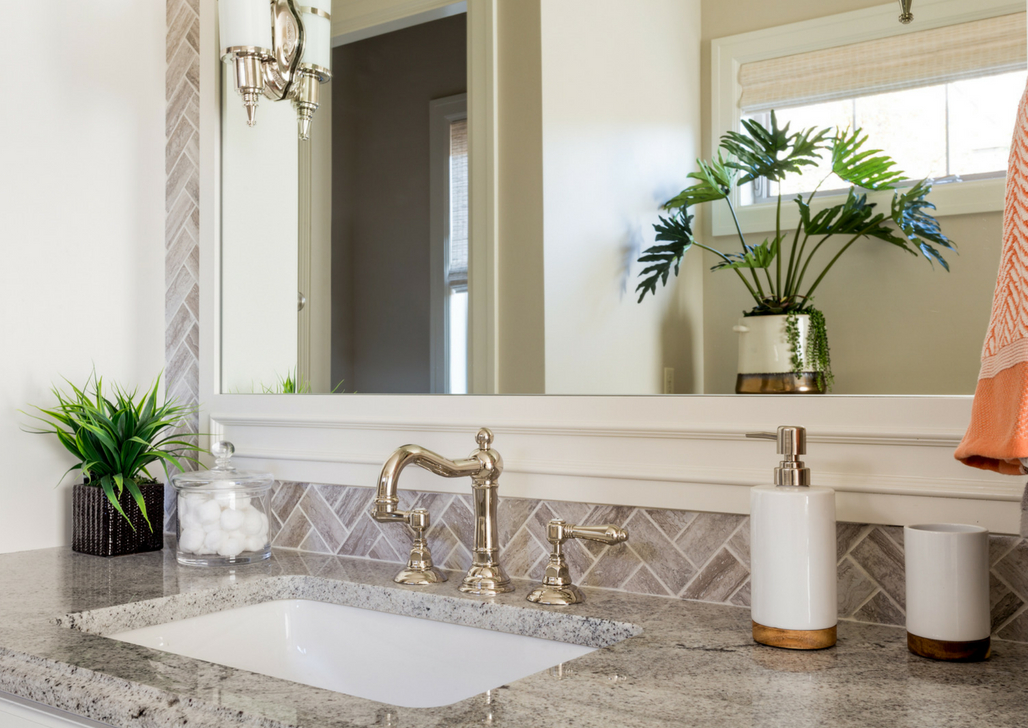 Concrete
Concrete is similar to natural stone in the sense that it is smooth and has an organic design that differs among each slate. Although concrete might have natural patterns, you don't have to worry about it being rough or rugged because manufacturers ensure they are cured and finished. In addition to being cured and finished, concrete counter tops are sealed with special chemicals that makes the material resistant to stains. So, concrete is a great counter top option for your bathroom remodel project if you have little ones or you yourself is a little bit clumsy.
Wood
Last but not least, wood is one of the most aesthetically pleasing counter top materials ever available. This is because wood has a timeless and classical appearance that no other type of material can mimic. It can give a warmth for the bathroom aesthetics that other materials simply lack.
Although wood is extremely aesthetically pleasing, its lost some of its popularity over time because research has proven that it is one of the least safe counter top materials. This is because wood is a great conductor for bacteria. So, it's harder to adequately clean bacteria from your wood counter tops. This can be a major problem because keeping a clean bathroom should be easy.
Aside from the bacteria risks, wood is also one of the most expensive and hardest to maintain materials. That being said, while wood might easily fit in the overall design aesthetic of your bathroom remodel, you might want to consider a cheaper safer option like natural stone.
Get a Free Quote on a Bathroom Remodel Project
Contact The Bathroom Restoration today if you are considering a bathroom remodel project in Downriver Michigan. We offer free quotes on home remodel projects in Downriver Michigan. Contact us today by filling in the form below: