Want a new and updated look for your home's bathroom but don't know where to start? Here at The Bathroom Restoration, we can help guide you when it comes to a home remodel project such as a bathroom remodel in Trenton Michigan. There are some key things you should consider when getting a bathroom remodel project which we'll cover in this post.
Things To Consider Before You Start Remodeling Your Bathroom in Trenton Michigan
If you are planning to remodel your bathroom or any room in your home really, it is crucial that you take time to consider a wide variety of factors and understand what you are getting into. Even a small remodeling job can turn into a massive headache if you haven't fully planned it out. So before you start your remodel, make sure you have covered all your bases. Ask questions and get down to details to ensure your project is completed quickly and without hassles.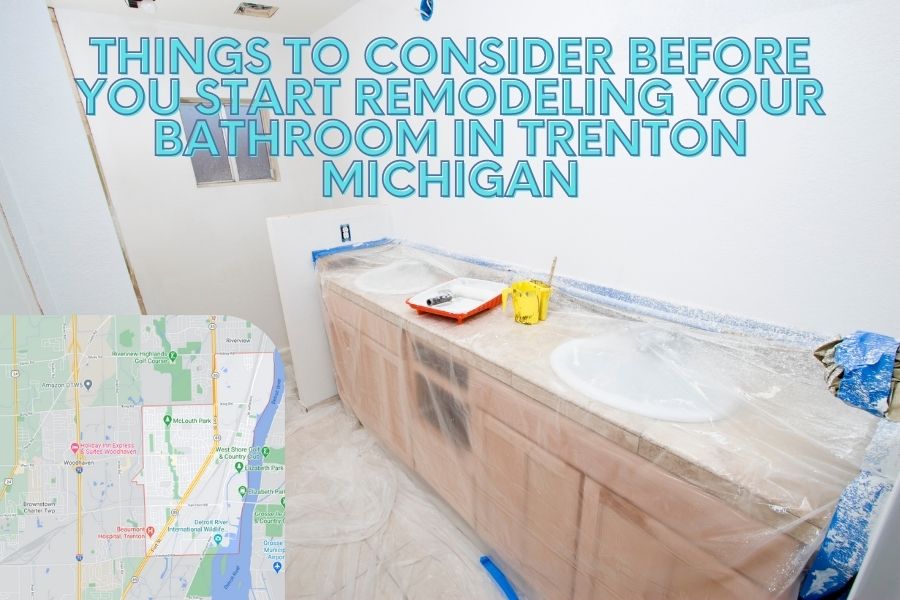 Plan It Out
Before you start a remodel your bathroom you need to know what your remodel is going to be. Will it be a small project or a complete gut job? You need to plan out all the details to make sure it is feasible and to guarantee that you get exactly what you want without overlooking the smaller details. Even things like outlets need to be planned out so you don't inadvertently make your home less accessible. You need to also plan ahead for how long the remodel will take and how it will impact your life until it's done. This is especially true if you only have a single bathroom or smaller bathrooms which don't have showers.
Create A Budget
You should never spend more money than you have. This is especially true for bathroom remodels. Some people look at remodels as an investment in their home that will raise your home's value. While it may mean you get more money if you sell, it is important to remember that it is never a guarantee that you make that money back. This is why it is so important to create a budget and stick to it. See how much you can afford to spend and consider how much you could pay back if you take out a loan. Never spend more than you are comfortable with and don't let anyone talk you into breaking your budget. There are financing options which can help getting a bathroom remodel but treat it like any other investment and do your due diligence when considering a bathroom remodel project in your home.
Get Permits
Most places require you to apply for and retain permits before building to make sure everything is done to code. Without this you can be subject to fines and have to redo work. Check to make sure you have any and all permits before any work starts. Many home improvement contractors will take care of this for you so be sure to inquire about this when getting estimates.
DIY vs Professional
There are definitely pros and cons to both doing the work yourself and hiring a professional. Doing it yourself can mean that you save a lot of money and get the job done more quickly because you can work for as long as you want. But you also need to consider your skill level and whether or not it is worth you attempting the work only to have to pay a professional to finish the job for you. Professionals are going to mean paying more to get an experienced person or team to do the job. They will be more knowledgeable about the subject matter and codes so it can be worth the extra money. Many people choose to combine the two by having a professional take on the larger tasks and doing the simpler tasks like painting yourself.
Find The Right Contractor
Not all contractors are going to be up to the task for the job so it is important to consider the past experience of anyone you hire. Look into reviews, licenses, insurance and make sure that they are on the same page as you on all details of the project. Also make sure everything is in writing and you each have a copy of the contract.
If you're interested in getting a bathroom remodel project done on your home be sure to contact the home improvement experts at The Bathroom Restoration today. We offer free estimates on home remodel projects and can answer any questions you may have about your project quickly.