When it comes to home improvement remodeling the most often room that homeowners start with is the bathroom. And if your bathroom hasn't been updated in the last decade or more it may be time for a bathroom remodel project for your home. Not only will a bathroom remodel in Trenton Michigan make your home look better but it can also increase the value of the home. Make sure it's done right by following these 6 tips to ensure that you make the most of your small bathroom remodel.
6 Tips to Make the Most of Your Bathroom Remodel in Trenton Michigan
Although having a large bathroom is great and gives you a lot of room to add some creativity, that's not usually the case for most of us. If your bathroom is like most, it's small and things are tightly packed in where they fit. This can make remodeling a small bathroom such a problem and doesn't leave much room for updating certain components and sometimes moving components just isn't feasible. There are some things that you can do to make the most of your bathroom which can make it look great and also save some space. Saving space will allow you more creativity in your design as well.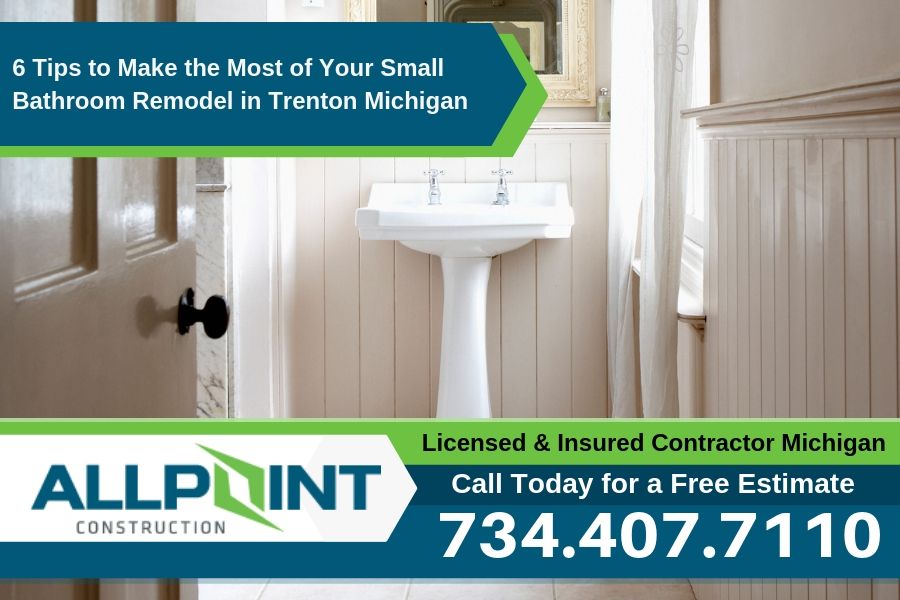 Consider a Corner Sink in a Smaller Bathroom
Sinks can be one of those components that is always in the way when it comes to a bathroom remodel. There is a design that helps move the sink out the way and can save a considerable amount of space. And that is adding a corner sink in the bathroom. A corner sink can save a lot of the footprint that traditional sink and vanity has. And if your bathroom has his and her sinks installed, removing both and only installing the corner sink can save a considerable amount of space. One problem with corner sinks is that you won't have the selection that traditional sinks have.
Don't Sacrifice Storage Space
If your bathroom has a closet or shelving for storage the first thought that many homeowners have is to remove that storage area for more room in a small bathroom. While this can sometimes be a good idea, removing all the storage in the bathroom is not. Consider all the items that you will store in the bathroom and the amount of space needed before removing any storage. I mean, do you really want to go to another room to grab a towel for your shower?
Use Bright, Light Colors
Darker colors on walls tend to make the room feel smaller. Lighter, brighter colors make it seem larger. Painting or using a wall coating that is lighter can make the bathroom feel bigger. You can also add large contrasting colors on walls which can make it feel larger as well. This can work especially well with larger mirrors in the bathroom.
Remove the Shower Door
No matter how you swing it or slide it, a shower door can cut off room in the bathroom. Even glass shower doors can make a room feel smaller. Consider removing the shower doors and install a shower curtain as well. If you have a shower only this can work especially well. It will help with just a bathtub too as well.
Bigger Mirror = Bigger Looking Bathroom
This small bathroom remodeling project is simple but can significantly seem to add a lot of room to the bathroom. Consider larger mirrors and better lighting in the bathroom remodel project. Both of these items can add the appearance of a larger bathroom.
In Wall Storage
Adding in-wall storage shelves can help to add space in your bathroom. The process means building shelving partly inside walls which give them a few inches of more storage. While these few inches may not seem like much you can create 6 inch wide shelves in some cases which only extrude 3 inches into the floor plan of the bathroom. For a space of 4-foot shelves, this can add 2 square feet of usable space in the bathroom.
Get a Quote from a Home Improvement Contractor
Contractors can help get the most out of your bathroom in terms of space. It's always best to speak with a home improvement contractor to determine what your options are. Be sure to call the home improvement experts at All Point Construction at 734-407-7110 and ask them about your bathroom remodel project.