Watch a few minutes of HGTV and you'll quickly realize the bathroom of many of the homes that they feature are in dire need of a remodel. Unlike bedrooms, the bathroom requires much more thought when it comes to a remodel. Old and dated bathrooms are one of the most commented on factors on the popular television station with many of the shows. Updating your bathroom with a new tub or shower can really have an impact on the overall appearance of the bathroom but it can impact your home in more ways. We'll take a look at some of the advantages and benefits of a bathroom remodel in Downriver Michigan and how it can help you.
Benefits of a Bathroom Remodel With Shower or Tub Replacement in Downriver Michigan
Most homes have multiple bathrooms. This can help when remodeling a single bathroom as it gives you an extra place that can otherwise be very problematic. If your home only has a single bathroom consider a bathroom addition to your home. But if you're interested in remodeling your bathroom and replacing your tub or shower there are advantages that you may not be aware of. You will need to discuss these options with your home improvement contractor as well to help get the look and feel you want in the bathroom.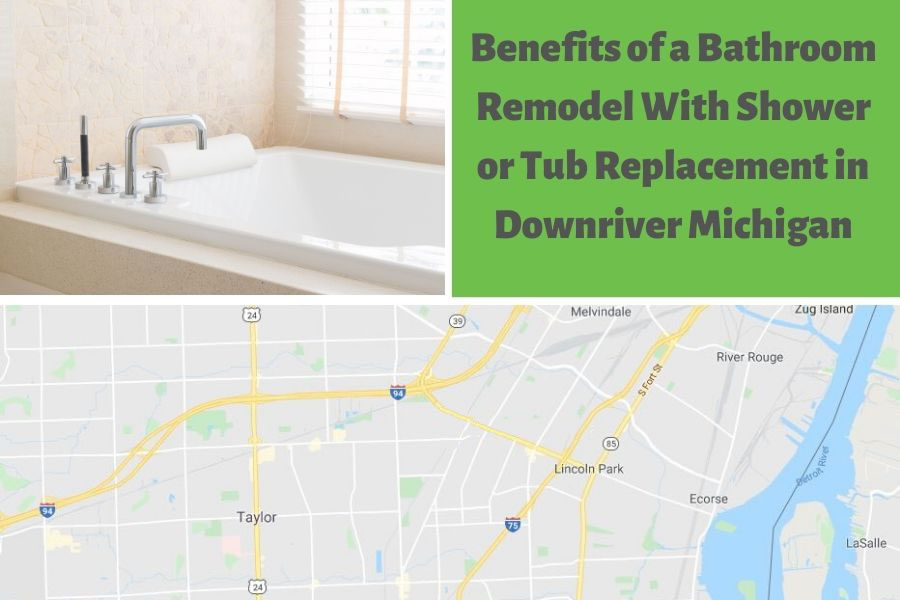 So if you have made the decision to remodel your home's bathroom and replace the shower or tub there are some benefits you can enjoy. With these benefits however you'll be faced with options that can make it better or worse. Updating your bathroom with the latest fixtures and components can improve it in many ways. Here are just a few:
Improved Appearance in the Bathroom
When you walk into the bathroom does it look modern and inviting? The bathroom in your home is one of the smaller rooms but it can have a huge impact on the overall appeal of the entire home. A dated bathroom with fixtures and components that look like they were from the early 80s is a great way to bring down the value of your home. When you get a bathroom remodel with updated components and fixtures you can bring your bathroom up to date and that will make the entire home more valuable and improve the overall appearance.
Better Energy Efficiency
Over the past few decades many advancements have been made in terms of energy efficiency when it comes to components in the home. From updated fixtures that use much less water to toilets that only require a small amount of water to flush, updating your home's components to newer, more energy efficient fixtures and components can have a huge impact. Plus, Since the bathroom will be more energy efficient you'll save money month over month due to lower energy bills. There are other components that can help with the energy efficiency of the bathroom as well including lighting and insulation. Talk with your home improvement contractor about energy efficient options that are available for your home.
Easier Access for Older Persons
Having an older adult in the home or a person who has a disability can be challenging when it comes to the bathroom. Since most bathrooms are small and don't have much room it can make it difficult for an older person or someone with a disability to easily access. A bathroom remodel project which takes into account this problem can be great. Consider using components that are designed for easier access. Replacing a tub with a shower or adding a step into bathtub can be a great addition and something that should be considered.
Professional Installation by a Qualified Contractor
Whatever you're planning in your bathroom remodel in Downriver Michigan it's important that you use a fully qualified contractor. Having a bathroom remodel on your home requires a licensed contractor due to plumbing and specialized electrical components. Don't risk problems by attempting a do it yourself project in the bathroom. And you may not know some of the components that are available for the remodel project. Fill in the form below for a free quote on a bathroom remodel project for your home.