Typically, the lighting that comes standard in your home's bathrooms isn't the nicest or the best at complementing your home. Sometimes they barely light the room, much less enhance your bathroom's greatest features to give it the relaxing and comforting feel a bathroom should. Bathrooms have too many unique features to rely on simple or a single source of lighting. Here are some tips to best light your bathroom to fully embrace the ambiance it can provide. Following these tips during a bathroom remodel in Flat Rock Michigan can give you a better outcome to your project and ensure the proper lighting is installed.
Choosing the Right Bathroom Lighting for your Remodel in Flat Rock Michigan
A huge problem with many bathroom remodel projects is that once the project is done, many homeowners realize that something is wrong. This problem is usually because of the lighting in the bathroom. Improper lighting can create a huge void in the bathroom and it's one of the most important things to consider for a bathroom remodel project. Here are some tips to help you better understand how much of a role lighting plays in your project and the outcome: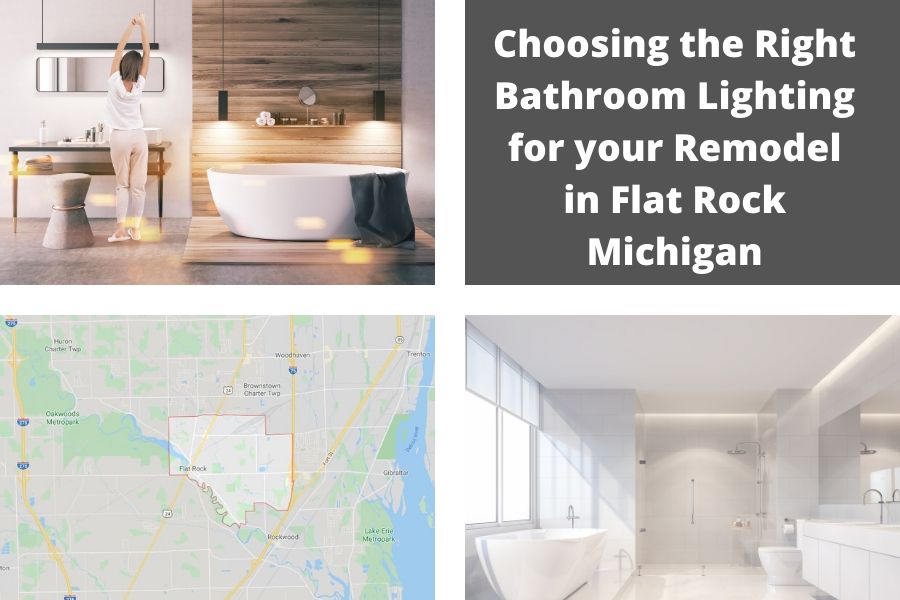 Ambient Lighting
Ambient lighting lays out the foundation for your room. This is the base lighting you need in your bathroom just to see around the room. Often a central lighting fixture will work, and odds are that is how your bathroom lighting came installed. You can change this out, though, and give your bathroom a stylish update or some flair if you want. Changing the type of bulbs or even number of bulbs in this fixture can also make a big impact on your room.
Task Lighting
We get ready in our bathrooms. For whatever the day may face, so we should be able to see our faces! You don't want to use recessed ceiling lighting right by your vanities because you'll end up with a shadowed face staring back in your mirror. Instead, go for vertical fixtures near your mirrors and sinks so that the center of light is around eye level. If you don't have space for that, install a longer lighting fixture above the mirror so that light is dispersed more evenly and closer to your face.
You probably haven't considered separate lighting for your shower. You may not need it, but you may be able to add it and give your bathroom an added bonus. With glass doors, you probably can opt to save the money of additional lighting, but if you don't, recessed shower lighting can make a huge difference and can truly benefit you.
Accent Lighting
Accent lighting can provide that extra little boost to your bathroom to really make it feel and look spa-like. You can use lights to focus on specific areas or art to bring about an elegant feel or you could use strip lighting under your cabinets to give a floating and glowing effect. Accent lighting, while not necessary, can really take your bathroom over the top and is an easy way to make your bathroom more special.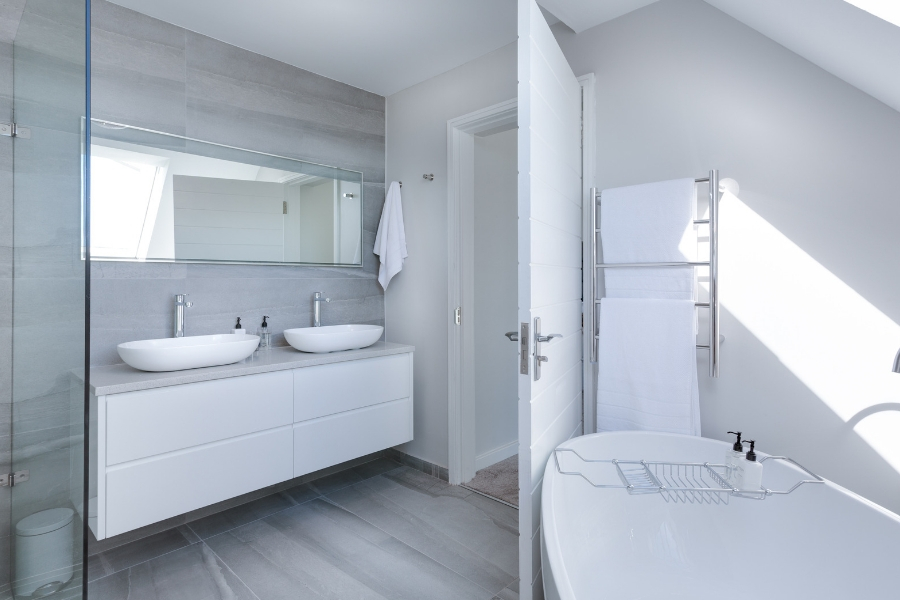 Choosing the Right Bulbs
Your bathroom is where you likely spend much of your time getting ready for work, special occasions, or just about any day. The right kind of lighting can make a huge difference in how you see yourself and your skin. White light will most accurately show your skin tone. Additionally, frosted or opaque bulbs will help to eliminate shadows. LED bulbs are the latest and greatest bulbs out now, and are both durable and efficient in saving energy. The greatest thing about them is that they are unaffected by humidity, making them an excellent choice for bathroom lighting.
Dimmers
You may think of adding dimmers to the other rooms in your home such as your living and dining rooms, but have you considered what a dimmer can do for your bathroom? Dimmers can make midnight bathrooms trips less jolting or can make a late afternoon bath extra relaxing. Don't underestimate the power of dimming your bathroom lighting to get the most out of your home.
Skylights
If possible, the addition of a skylight in your bathroom could bring in so much natural light so that you don't even have to use the lighting in your bathroom during the day. Even adding more windows could make this type of difference and could greatly brighten up the look and feel of your bathroom.
Talk With a Contractor
To get a better idea about how to best layout your bathroom remodel project in Flat Rock Michigan talk with an experienced bathroom remodel contractor. Look at photos and ask questions about your project to get the best results. The Bathroom Restoration offers free consultations and pricing quotes for the project as well. Fill in the form below to get started.