Your bathroom may not seem like a room you need to consider specialized lighting for, but it has more of a role than you may think. A bathroom serves a variety of purposes beyond just a place to use the toilet. From showers to baths and even applying makeup, a bathroom can be a place to relax or get ready. The right lighting can make a world of difference and will make you wish you had had it all along. For your bathroom remodel in Taylor Michigan be sure to consider the lighting that will be used. Here's why.
Choosing The Right Lighting For Your Bathroom Remodel in Taylor Michigan
There are many new technologies when it comes to lighting for your home. And with these newer technologies, you can get a much better outcome to your home improvement project. The newer products can also make the home much more energy-efficient as well.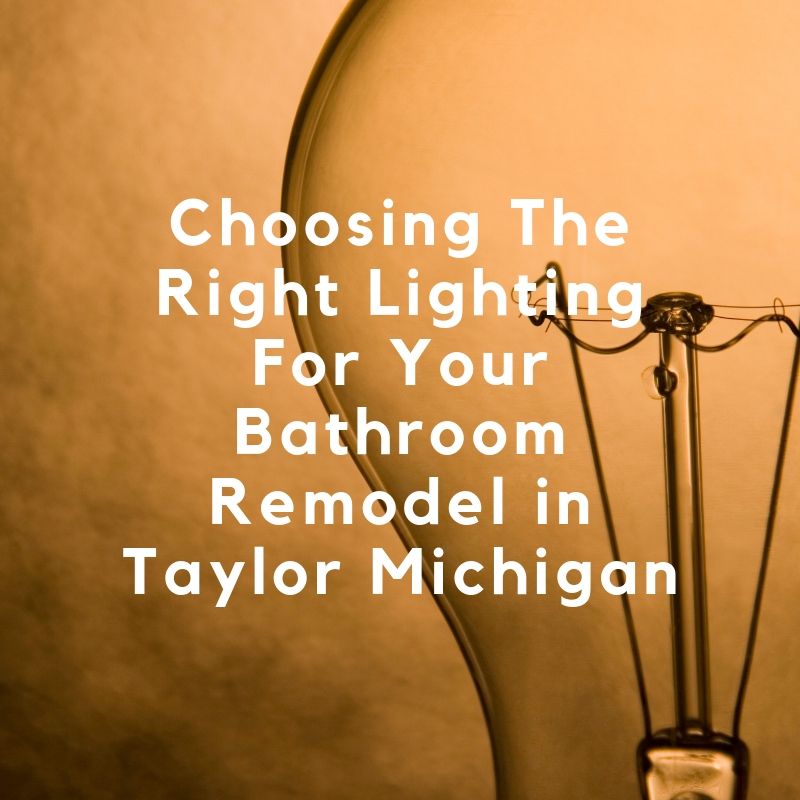 Ambient Lighting
Ambient lighting is the common overhead fixtures you see in most bathrooms. It is a basic fixture that is turned on via a switch and illuminates your bathroom. But it is important to correctly place ambient lighting fixtures. Because they illuminate from the ceiling down, it can create unflattering shadows if placed too close to mirrors or showers.
Ambient lighting should be hung close to the entrance of the room, rather than the middle or over a fixture. This will prevent any shadow effects and will provide your room with the full illumination you need.
Task Lighting
Task lighting is designed to illuminate a specific area to make it easier to complete a task. For a bathroom remodel there are two common places that task lighting is used: the shower and the mirror over the sink.
Mirror task lighting is designed to frame the mirror above your sink and is ideal for those who spend time looking into the mirror to get ready. This can be for things like putting on makeup or shaving to make sure you don't miss a spot. Task lighting around a mirror is also nice to have if you ever get something in your eye.
Shower task lighting is ideal for those with shower curtains or doors that aren't clear glass. Showers can end up darker than you might like due to the position of the ambient lighting and the black out features of curtains or doors for more privacy. If you want to add a little extra light to your shower, then a shower task light can accomplish that without making it too bright or unflattering.
Accent Lighting
If you want more of a relaxing, spa- like feel in your home, accent lighting is a ideal. Accent lighting can be a strip of lights mounted on the underside of an object, like a shelf, or over an object to bring attention to it. The goal is to use soft lighting that highlights a feature of your bathroom without being too harsh or overbearing.
Natural lighting
Windows and skylights are a perfect way for you to get some natural light into your bathroom, while also saving money on your energy bills. If they are functional, you can also get a nice flow of air through your bathroom as well. But if you are worried about anyone sneaking a peek into your bathroom you can also cover the windows with light colored curtains to still keep light coming in.
Dimmers
Dimmers are a perfect way to get just the right amount of light in the room without having to add in extra lighting or special bulbs. This is not only an easy way to get a relaxing mood lighting for a much needed bubble bath, but ideal for those late night bathroom breaks without waking you up too much.
Choosing The Right Bulbs
It is recommended that you use opaque or frosted bulbs over their clear alternative for a more flattering and relaxing light. White bulbs offer the best lighting for a wide variety of situations and looks good with all skin tones.
If you're considering a bathroom remodel for your Taylor Michigan home be sure to call one of the top remodeling contractors in Downriver Michigan. The Bathroom Restoration offers free quotes and are fully licensed and insured. Fill in the form below for a free quote.