Do it yourself bathroom remodels have lately become the talk of many different trades people because so many home owners are attempting to do the work themselves. While a small bathroom remodel can be possible for some home owners, when it comes a full bathroom remodel it's best to leave this type of project to qualified home improvement contractors in order to make sure the project is done right. In this article I'll discuss some of the things that can go wrong when you attempt to do a project yourself that should be done by a bathroom contractor. 
Problems That May Arise With Bathroom Plumbing
There are loads of projects that you can do in your home to make it look great. However, two rooms that can be quite complicated and present all sorts of problems are kitchens and bathrooms. Mainly because of the bathroom plumbing issues that can arise because of all the different components that are present in the bathroom or kitchen. With so many different components that come into play in these rooms doing a project yourself can have very bad results and could cost you more in the long run rather than just doing a small bathroom remodel on a budget and save some money.
Plumbing Permits for Bathroom Remodels
One of the biggest advantages of using certified home improvement contractors and plumbers is that they know local permit requirement and inspection requirements. Most home owners have no idea of just what permits are needed and which ones aren't. If you err on the wrong side it can cost you big at the end of the project. Imagine having to remove all your work simply because you forgot to get a critical inspection that was required. Usually when that happens you are forced to remove anything obstructing the view of the plumbing pipes. A mistake like this could turn a simple project into a nightmare and an expensive one at that. If you are planning on doing the project yourself make sure you are up to date on local permit and inspection requirements.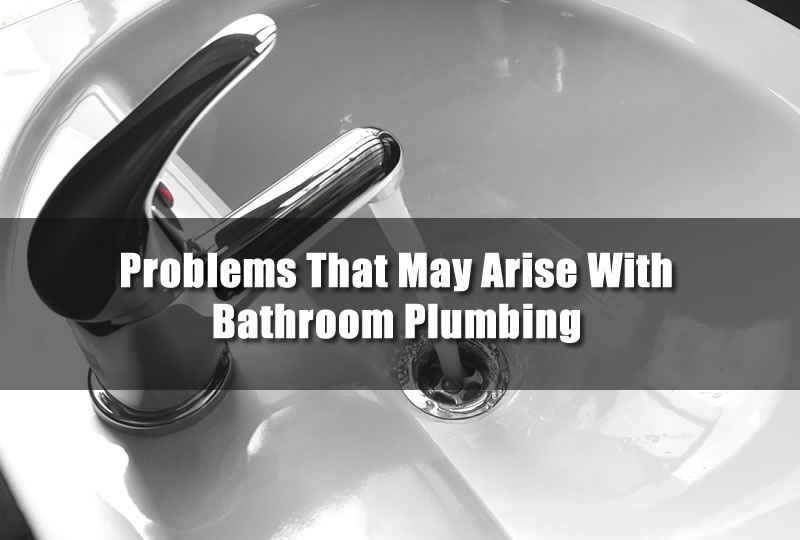 One of the biggest advantages of using certified home improvement contractors and plumbers is that they know local permit requirement and inspection requirements.
Drainage Issues With Plumbing in the Bathroom
Plumbers know how pipes fit together. It seems like a easy task of just making sure the pipe falls and water runs out of it. But a small mistake where drains are not working right can cause all sorts of problems. Usually problems with drains only show up after the project is complete and the bathroom is started to be used again. When a drain problem shows itself at this stage you may be forced to remove much of the work that was done on the bathroom remodel to inspect and repair the problem. Common mistakes like not adding the correct p-trap can cause odors in the bathroom as well and can allow dangerous gases to enter the bathroom. Keep in mind that when you're remodeling a bathroom you must account for the drainage issues and make sure they are working properly before covering up your work.
When Flooring Is Not Properly Installed
Although this type of problem is not just in the bathroom it's where it's usually found the most. When tile flooring is installed without correctly adding the right base it tends to crack after some amount of use. Because the floor gives a bit and is not properly secured it can cause problems like this. What's worse is that this problem will only show up after the home's bathroom is already completed. It may even take a few weeks before you realize the floor is starting to crack. This is a problem in the bathroom because of the water that can seep through the cracks and damage the underlying floor. Don't take a chance on tile like this because it really does require a home improvement expert to be done right.

Get a Home Improvement Contractor You Can Trust
There is a way you can avoid all these bathroom plumbing problems and that is by getting a home improvement contractor that you can trust to do a remodel on your home's bathroom. By getting a remodeling contractor like All Point Construction you can rest assured that the project will be done right and you won't need to lose sleep at night worrying about it. Call All Point Construction today at (734) 407-7110 for more information and to get a free estimate on your home improvement project.