Remodeling a master bathroom in Downriver Michigan is a big home improvement project. In fact, any type of bathroom or kitchen remodel project is always a huge home improvement project because it affects the entire home and it has so many components that are included. Unlike a bedroom where the main focus of the home improvement remodel is more in terms of home decor. When it comes to a bathroom there are so many other things you'll need to consider such as plumbing, fixtures, and more. Before you dive into a master bathroom remodel in Downriver Michigan be sure to check out these tips. 
Master Bathroom Remodel in Downriver Michigan Tips for a Better Outcome
There are many things you'll need to consider when getting your bathroom remodeled. Not just in terms of how it looks once completed but there are a number of improvements that have been available lately that can make a huge difference in how your bathroom looks and how functional it is. No matter how large or small your bathroom remodel is however you'll want to stick with some of the tips below to get the best possible outcome for your home improvement project.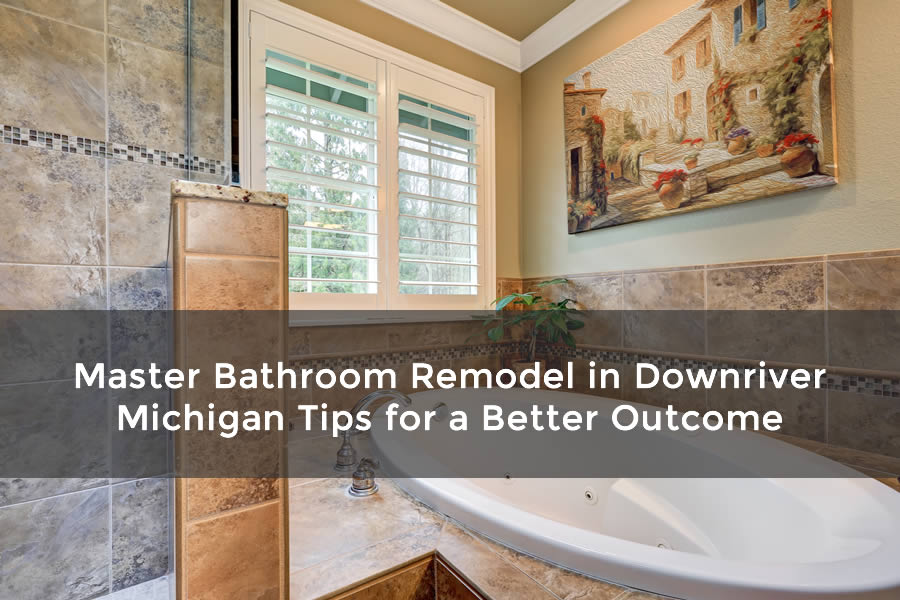 First Understand the Full Costs and Make a Budget for the Remodel Project
Since the bathroom remodel project is one of the more expensive home improvement projects when it comes to just one room it's best to first make a budget for the entire project. This budget should include all the components that will be used in the bathroom as well as professional services to ensure the project is done correctly. On top of your main budget plan you'll also want to include emergency funds in the budget. That way if there is a problem that arises in the middle of the project you'll be able to handle it and it won't bring the entire project to a screeching halt and you lose the use of your bathroom for some time. Always estimate the budget higher than needed just in case. It's best to stay within budget and get the job done correctly.
Always Make Sure to Use Fully Licensed Contractors
There are many do it yourself projects that are great for home owners. Usually these projects are building and decor related however. For the bathroom you'll always want to use properly licensed and qualified home improvement contractors. One of the reasons why you'll need licensed contractors is that you may be required to have a contractor sign off or approve your work. If they don't approve it then you may be forced to pay fees and your home may not pass inspection or be eligible for permits. Having licensed contractors that know how to install everything and have it done correctly is a must. This also means the contractor will be responsible if the bathroom remodel doesn't pass inspection as well. Two areas which will absolutely require licensed contractors is electrical and plumbing and let's face it, it's always best to have professionals in these areas.
Have an Alternative Ready Just in Case
If you have a very tight budget or if you have a single bathroom in your home it's always best to have some type of alternative in place in case things go wrong. Ask your contractor about the time frame needed for the project and what happens when things go wrong. Having a good contractor who makes sure the project runs along without a hitch is best. You certainly don't want to hire a contractor who starts the project and then leaves for days or even weeks at a time.
Use Green Energy Efficient Fixtures
One of the best things about upgrading or updating your master bathroom is the different types of fixtures that are available now. Want to help out mother Earth a bit? Consider green energy efficient fixtures that are now offered for your bathroom remodel project.
Get an Estimate on Your Master Bathroom Remodel Project
It all starts with an estimate on your bathroom remodel project. Get an idea of just how much it will cost and the time frame needed to make your bathroom remodel project a reality by calling a great home improvement contractor located in Downriver Michigan which is All Point Construction. Call All Point Construction today at 734-407-7110 for a free estimate and consultation.