Remodeling your bathroom can give you lots of value add to your home. It can also make it much more functional and let's not forget that is will add lots of beauty to the home as well. But there are some things that many home owners seem to overlook and when that happens it can really turn a great project into a disaster. In this article I've listed 5 of the mistakes that home owners in the Downriver Michigan area have done in their homes and more importantly, how you can avoid these mistakes during a bathroom remodel in Downriver MI on your home.
5 Huge Mistakes Home Owners Have Made When Remodeling a Bathroom in Downriver Michigan
When it comes to home improvement and home remodeling projects getting the best outcome for the project is always the goal. However, sometimes there are things that may seem like a great idea to begin with and later you find out that things didn't work out as planned. Proper planning can help to eliminate many of the problems you may have. You can also talk with fully qualified and licensed contractors who have years of experience in home improvement to determine their thoughts. Sometimes simple things can be problematic and also avoided if you just as a contractor.
1 – Not Properly Planning and Going Too Far Over Budget
One of the absolute worst things you can do is start a project and before the project comes to an end you run out of money in the budget. Without a way to complete the project you may end up with a home that is simply not finished. Consider having the money to do all the demolition on your bathroom remodel in Downriver and before you were able to install a new floor the budget runs out. This can be avoided with proper budget planning and also allowing for additional budget in case of unforeseen problems.
2 – Not Considering the Humidity in the Bathroom
Many products that home owners will want to use in the bathroom aren't made for the humidity that is present. Things such as wallpaper, laminate flooring, etc… may all look great initially but the humidity that is present in the bathroom will usually make these items fail pretty quickly. Any item used in the bathroom needs to be able to withstand the humidity that will be present.
3 – Inadequate Ventilation in the Bathroom
Adding a new shower for the bathroom can be great. But you'll also need to consider the ventilation requirements of any new components in the bathroom. Adding a Jacuzzi tub that will be used for longer periods of time can inject lots of humidity into the bathroom and without proper ventilation it can allow problems with mold and damages to other components in the bathroom as well.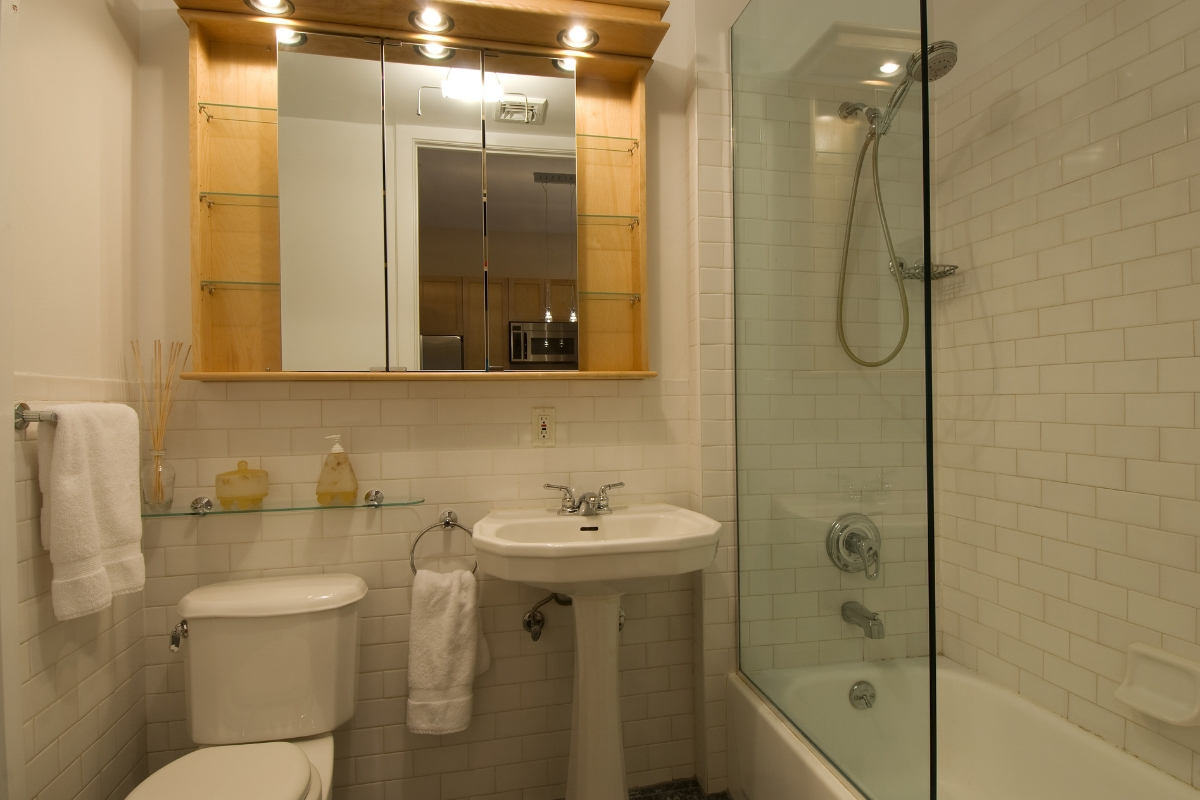 4 – Don't Forget About Storage in the Bathroom
Some of the best bathroom designs can end up being sheer disasters simply because the home owner forget about storage in the bathroom. Having a bit of storage to contain towels, toiletry, etc.. is needed and if you forget these items it can really be problematic later on. Especially if you need to store things on counter tops or simply don't place them in the bathroom. Always have enough storage area in the bathroom and if you plan on storing cleaning supplies that storage area will need to be higher and out of the reach of children.
5 – Hire Skilled Professionals for Your Bathroom Remodel in Downriver Michigan
There are many televisions shows on that teach you about home improvement projects and home remodel projects and in 30 minutes or an hour that completely renovate a bathroom and it looks great. However,  in the real world this scenario doesn't play out that great. While getting ideas and tips from these places can be great you'll always want to use fully qualified and licensed contractors for your bathroom remodel in Downriver Michigan. Local building codes and laws also limit many of the things that home owners can do without being inspected by a licensed contractor. And by using a licensed contractor you'll be able to discuss things that may or may not work and find out why based on your home.
One of the best home remodel contractors in Downriver Michigan is The Bathroom Restoration. They offer free estimates on bathroom remodel projects and are located in southeastern Michigan. Fill in the form below to get a free quote on your bathroom remodel in Downriver Michigan today!